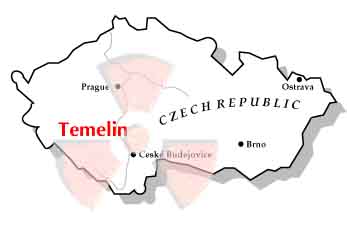 Directions to the Temelin Blockade
From Austria and Slovakia (through Brno) by public transport
Introduction to getting to the Blockade
Temelin is a tiny little village roughly in between Prague and Brno. The closest "city" is called Ceske Budejovice (or for Germans: Budweis). You can get there either by bus or train - the train station will be approximately 3 or 4 kilometers from the camp itself and the bus stop will be significantly closer - about 1 kilometer. You will be able to find arrows painted on the road to the cp once you arrive at the bus or train stop. We will also have a map to the cp from the train and bus stops for your use toward the end of June. For complete updated information and a Temelin Action Handbook you should register with PIANO. Otherwise you can use the information provided here to help you with your plans.
Travelling with the Theaterstraat bus from Amsterdam to Temelin
A special Theaterstraat bus will leave sterd for a direct connection to the Temelin Blockade. You should contact Pim at EYFA for more details. If you don't travel from Amsterdam but think the bus should go by your town, (e.g. Antwerp, Aachen, Dresden, etc.) please contact us and we can see what we can do for you.
Hitch hiking through Germany to Prague
Generally, when hitch hiking through Germany you should not have a problem. Just get yourself to the autobahn and make your way across the country. If you're a man, the best strategy is to either go alone, but if you're a woman we suggest that you travel with a friend for security (a woman and a man is a good combination if couples are needed). But in general, try to travel with as few people as possible. Then stay on the autobahn by stopping only at petrol stations. If someone wants to take you further but will end up leaving you at a normal exit, ask to be let off at the petrol station instead - the more you stay on the autobahn itself the faster you will move across the country. At the big petrol stations you can get a free map of the German highways with all the petrol stations shown - this may turn out to be very handy for you along the way. But you can always ask your ride for directions and suggestions - the more you involve them in your travels the better they will serve you. Also, carry a marker or big pen and paper to make a sign - the better you advertise the faster you will travel. Don't worry about hitch hiking in the Czech Republic. The trains are so cheap and the highway system so underdeveloped (fortunately) that the trains make the most sense. Just worry about the path across the German/Czech border, then take a train. See the maps (North and South) of Germany for general highway structure and the desired points of entry to the Czech Republic.
If you're hitch hiking to the Czech Republic through Germany there are basically two practical points of entry - Dresden/Děčín/Teplice and Marktredwitz/Cheb. First, if you're coming from the North half of Germany (e.g. Berlin, Hburg, Hannover, etc) you should probably head for the town of Děčín or Teplice. This will bring you first through the Dresden. See the Dresden/Děčín/Teplice map for details. This route is not always the greatest because once you get to Dresden the roads get really small and confusing, but it's certainly possible. I have personally done it a couple of times without much trouble - the trick is to stay outside Dresden on the autobahn at a petrol station. From there you should only take a ride that will bring you into the Czech Republic. If you do get stuck in Dresden you should look for the routes 170 to Teplice or 172 to Děčín. The path to Cheb is certainly faster, so if you get a ride from the North going to Munchen, take it and then get off at the stop toward Cheb (route 33) instead of shooting for Dresden.
Second, if you're coming from the mid-German area or the South half of Germany then you should probably target the Marktredwitz/Cheb point of entry. There are two autobahn directions you can take to get into Cheb. First, from Regensburg you can take the autobahn 93 to the town of Wiesau and then travel the rest of the way on route 299 (see map for details). Second, from the Hof/Bayreuth area you should be travelling north and south on autobahn 9 which connects Berlin to Munchen. If you travel along this route, get off near Marktredwitz on route 303 (see map for details). From there you should hitch straight into Cheb - you will be travelling through some small towns along the way and this may be slow but it's relatively reliable.
Travelling through Germany by train
If you're traveling by public transport through Prague from the West, here are some suggestions of ways to travel. First, do NOT pay the expensive German train prices (unless you have a Bahn Card and are in hurry). Otherwise, the cheapest way to travel besides hitch hiking is to buy yourself a weekend-trainticket called Schones Wochenende Fahrkarte. This allows you to travel in Germany on the weekends with 4 other people for only 35 DM. The only restriction is that you can not use the fast trains, only the local slow ones. This means you will have to make several changes and probably spend the day on the train but it's the most reliable form of travel you can take. In short, go all the way to the border to a small German town called Schirnding, then buy a ticket to the city of Cheb to get you to the Czech side of the border (this will cost a few extra DM). If this extra cost is a concern, you can hitch from Schirnding to Cheb without much difficulty. At any rate, do NOT buy your ticket to Prague on the German side of the border unless you're in a hurry.
From the Czech side of the border, Praha Hlavni Nadrazi (Prague Main Station) is your next destination. From there you should follow the bus or train instructions below. If you travel on the weekend of the 28th and 29th of April you will be right in time to join the Clean Energy Brigades Cp. If you travel the next weekend you will miss the first days of actions...too bad.
Travelling in Prague on the Metro
When you arrive at Hlavni Nadrazi buy yourself a metro/tr ticket at the METRO ticket office or at the yellow machines. It costs 10 crowns and allows you to travel for 1 hour. WARNING: it makes very much sense to not rely too much on all these times, as they change often and unexpected.
By Bus from Prague to Temelin
By bus from Praha to Temelin there are two possibilities: First, go to the bus station at the Florenc stop (this is a metro stop on the red line C one stop from the main railway station). All tickets should cost no more than 100 crowns (this is very app. 6 DM) and you buy them from the driver. At stop 23 you will find the bus with the following schedule to Temelin:
| | | |
| --- | --- | --- |
| Monday-Friday | Saturday | Sundays |
| 6:15 | 6:15 | 6:15 |
| 9:05 | 8:30 | 9:05 |
| | 9:05 | |
Second, go to busstation Roztyly (this is a metro stop as well , on the red line C eight stops from the railwaystation). The current schedule has these listings:
| | | |
| --- | --- | --- |
| Monday-Friday | Saturday | Sundays |
| 13.35 | none | 16.10 |
| 16.10 | none | |
From Česke Budejovice to Temelin by train
departure
time:
6:33
7:13
9:18
12:13
14:13
15.13
16.32
18.05
19.43
20.13
arrival
time:
9:04
9:43
13:15
14.55
16:45
17.42
18.49
20.38
22.14
22.36
notes:
very slow
only on Tuesday, Friday and Sunday
only on Fridays

**Please note: these times are subject to change and for best travel times please register with the PIANO office or check the site in mid-June.
From Ceske Budejovice there is a train to Cicenice >>Cziczenice<<. Trains from Ceske Budejovice to Cicenice: departure 5.35 -- arrival 5.59 / departure 6.31 -- arrival 6.55/ departure 7.14 -- arrival 7.38/ departure 10.31 --arrival 11.04(Monday till Friday)/ departure 11.48 -- 12.22 (Monday till Friday) / departure 13.43--14.05/ departure 14.42 -- 15.18/ departure 15.30 --16.04 (Monday till Friday)/ departure 16.52--17.16 (Friday + Sunday)/ departure 17.06 -- 17.30 /departure 18.44 --19.06 / departure 20.08 -- 20.30/ departure 21.18 -- 21.51 (Monday till Friday)/departure 22.40 -- 23.08 (Monday till friday)
Trains from Cicenice till Temelin: Departure 6.05 -- arrival 6.22 / departure 8.00-- arrival 8.17/ departure 12.28 -- arrival 12.44/ departure 15.47 -- arrival 16.04/ departure 17.43 -- arrival 18.00/ departure 19.32 -- arrival 19.49/ departure 22.42 -- arrival 22.57
The information-nr for trains is 02(Prague)-24224200 and for the busses 2421060. Unfortunately they only speak Czech there.

Resistance | Brain Food | The Players | '97Blockade | Links | CEB | SPACE