---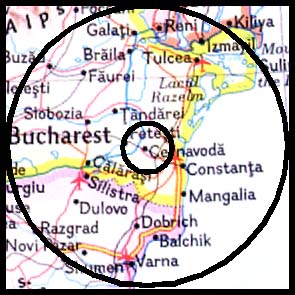 Cernavoda
City, Country
Cernavoda. Romania
Number & type of Reactors
5x700Mw CANDU 6, (all under construction)
Net Electric Power as % in 92 of national total
3500 MWe
Major population Centers in a 150 km radius and
total estimated population of 150 km r. region
3.5 million on Romanian land alone including Constanta, Mangalia, Braila, Tulcea, Calarasi, Buzau, Galati, Oltenita
Date of commercial operation start up
or (if unfinished) date of construction start.
Planning begun 1979, construction 1984. Fuel has been brought to Reactor 1; proposed start is early 96
Operator/Builder
AECL - Canada, Ansaldo - Italy, RENEL - builders RENEL - operator; AECL - supplier
---
Accidents and Dangers:
The NPP is located in an earthquake area. From 1979, three major quakes occurred. RENEL and AECL don't provide information about the problems which occurred during operation of CANDU plants in Canada. Lacking information on waste storage (place, security).
---
Local Contact Group:
Earth Friends (Prietenii Pamintului); Att: Camelia Zamfir
str. Siderurgistilor, bloc SD4A, ap. 12
6200 Galati, Romania
ph/fax 40-36-457381
ion@ppmgl.sbnet.ro
---
Key Arguments/History
This plant is very expensive and completion is quite late. The original contract was signed, and site preparation began, in 1979; construction finally began in 1984. RENEL joined the contract in 1991, taking responsibility for funding (the cost was by then $1 billion). The Export Development Co then loan an additional US$334 million. As of mid-April, $222 million had been drawn. The costs of the first CANDU reactor at Cernavoda reached an estimated $2.2 billion (spring 95). The CANDU 6 design in India had to be closed after 10 years of operation because it had over 250 emergency shutdowns in that period. The first shipment of fuel to Cernavoda had an accident and contaminated a small area.
---
Alternatives:
The main alternative electricity resource here is efficiency. Old production, distribution systems, and technologies can be modernized to reduce electricity consumption by 1/3. Solar, wind, geothermal, and gas are not seriously regarded by the authorities even though research has shown large potentials. Interest in their use will increase only with fuel price increases and environmental taxes. A similar case is hydroelectric power. Romania is ranked 27th in the world for power and installed capacity; it has a 70 TWh/yr theoretical potential of which 40 TWh/yr is practically realizable. Yet by 1992, only 16.6 TWh were in place.
---